Grey Fly Ash Bricks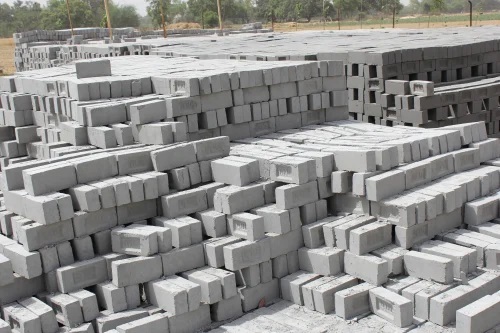 Grey Fly Ash Bricks
Product Description
Looking for the perfect bricks to bring your construction projects to life? Look no further than Mohta Cement Pvt Ltd! We are your trusted partner in manufacturing and supplying high-quality flyash bricks in various sizes, including 8" inch small and large, as well as 9" inch bricks.
Unleash Your Imagination With Mohta Cement's flyash bricks, your creative visions can become a reality. Our bricks are designed to provide the utmost strength, durability, and versatility, giving you the freedom to build exceptional structures that stand the test of time. Whether it's a residential masterpiece, a commercial complex, or an architectural marvel, our bricks are the foundation you need.
Environmentally Friendly At Mohta Cement, we care deeply about the environment. Our flyash bricks are manufactured using a blend of high-quality materials, including flyash, a byproduct of thermal power plants. By incorporating flyash into our bricks, we not only reduce environmental impact but also help you contribute to sustainable construction practices.
Superior Quality We understand that every project demands the best, and that's why our flyash bricks are crafted with meticulous attention to detail. Each brick undergoes rigorous testing to ensure unmatched strength, uniformity, and dimensional accuracy. Our commitment to quality ensures that your structures will be sturdy, reliable, and visually appealing.
Timely Delivery At Mohta Cement, we value your time and understand the importance of meeting project deadlines. Our efficient manufacturing processes and robust supply chain management enable us to deliver your order promptly, so you can keep your construction projects on schedule without any unnecessary delays.
Customer Satisfaction Your satisfaction is our top priority. We believe in building long-lasting relationships with our clients by providing exceptional customer service. Our knowledgeable and friendly team is always ready to assist you, offering expert guidance, answering your queries, and ensuring a seamless experience throughout your journey with Mohta Cement.
Choose Mohta Cement Pvt Ltd Today Experience the difference of Mohta Cement's flyash bricks. Create sturdy structures, minimize environmental impact, and enjoy a seamless construction process. Trust in our commitment to quality, reliability, and customer satisfaction. Let's build a brighter future together, one brick at a time!
Contact Mohta Cement Pvt Ltd now to discuss your project requirements and place your order. The perfect bricks for your dream construction projects.